Posted by franchisetimes.com on 15th Feb 2014
When Lindsay Cunningham's Monkee's boutique closed for a month and half last year during peak pandemic shutdowns, she thanked her lucky stars she already had an e-commerce site to lean on. Cunningham, who opened her store in Mount Pleasant, South Carolina, in 2018, is representative of the larger trend of retail brands that had to shift sales online in order to stay afloat during COVID-19.
"The shift was scary at first; you're building a relationship with a customer who is a stranger, who you've never met and may have never spoke to," Cunningham said. She also noted they have a higher return percentage with online sales. "Thankfully, with our online customers, we're able to sort of build a relationship with a lot of them through Instagram and our trying on videos."
Cunningham kept one employee on, Whitney, to check new inventory and post fittings on social media. Whitney became a local celebrity of sorts for their customers, who would call in and ask if she was working and if she could try certain things on for them.
"The first year I asked her, she said, 'I'm not comfortable.' But when we shut down, she came to the rescue and said I'll do them because sales weren't coming," Cunningham said. "Since then, she does them every day anytime something new comes in, explaining the size and fit and colors."
Learning to adapt when things don't go as planned was one of the biggest lessons Cunningham learned, plus the power of communicating via social media.
"Most people spend hours a day on their phones on Instagram, it's the best way to reach the consumer. If you're not putting 120 percent effort on Instagram, you'll see those numbers" drop, Cunningham said.
A Global Web Index survey found on average, global internet users spent 2 hours and 22 minutes on social media per day in 2020, and many digital habits formed during lockdown have endured despite many restrictions being eased. Instagram's ad audience grew at a rate of more than 1 million new users per day, according to parent company Facebook's advertising tools, showing that brands can now reach more than 1 billion people using ads on Instagram.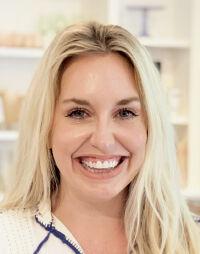 While the corporate team at Monkee's helped franchisees apply for Paycheck Protection Program loans, Cunningham took action. Prior to the pandemic, she created her own clothing label, Olivia James, which is now sold in more than 100 Monkee's stores. When COVID-19 hit, Cunningham realized customers weren't looking for luxe items and wedding guest outfits anymore; they wanted comfortable, more casual pieces. She designed some inexpensive cotton dresses for wearing around the house, got them printed in India and started selling them under the LivRo label.
"LivRo came from the pandemic and was my saving grace when I was shut down because we had so much inventory in our store, but without weddings or vacations, nobody wanted to wear them," Cunningham said. "Our customers didn't want to wear sweatpants all day at home, they still want to look put together…for this year, people are just wanting easy, throw on and machine-washable clothes. Silks are a thing of the past. Everybody just wants cotton, the easier the better, but they also still want beautiful bold prints, bright colors, and block-printed dresses are huge in that way. It'll stay that way for a while I believe."
Her first LivRo delivery sold out in minutes. The same thing happened with her next few shipments, and Cunningham said her sales would have been thousands of dollars less than what they were without LivRo. Cunningham even started wholesaling her line to other stores.
"As long as what you're selling fits in with the Monkee's mold, I can carry anything I choose," Cunningham said. "Since I'm just a franchise that's independently owned, I can kind of just do what I see fit for my store as long as what is in my store is representative of the Monkee's look."